The Center of Innovation and Business Development (UCIBD) in UCAS organizing the Innovation &Employment marathon day.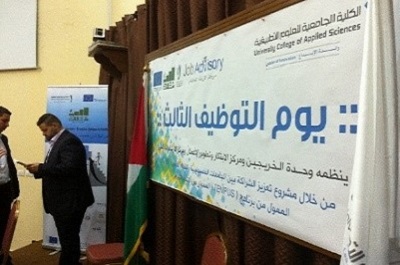 The Innovation and Business Development Center (UCIBD) funded by STEP Project "Strengthening Universities - Enterprise Linkages in Palestine", TEMPUS programme - European Union in collaboration with the unit of graduates at the University College of Applied Sciences organized a marathon day of employment. With the participation of 14 distributed among the profitable companies, Palestinian institutions and civil institution and dozens of University College graduates from various disciplines and programs.
This marathon aimed at providing employment opportunities of UCAS graduates through career interviews conducted by participated enterprises, in addition to promote the effective use of learning outcomes in order to reinforce the role of Applied Research in community services and meeting the needs of the Palestinian labor market as well.
Dr. Hani Qusa the vice rector for planning and international had emphases his deeply thank for all the companies and supporting institutions for their participation, and also extended his gratitude to the organizers of the marathon, especially the Innovation and Business Development Center and the Graduation Unit for making this annual event come true.
Graduates had appeared a positive and enthusiastic behavior for giving them an opportunity to produce them to varied local enterprise, were the participating enterprises expressed their highly interest in the quality and efficiency of the graduates have been observed during job interviews.